Here's the second piece of old furniture I have subjected to cleaning and polishing: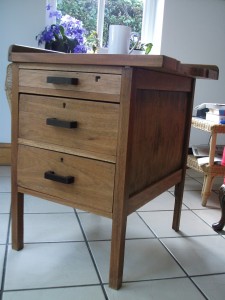 We bought it for £20 from an antique shop at Wolseley Bridge, Staffordshire when it looked like this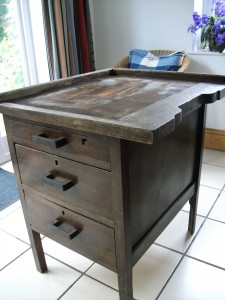 with a piece of brown, damaged lino inset into the top, coming loose. That's the picture I sent to Ursula, the researcher at St. Bride Library to see if she could identify whether it was indeed a "newspaper lettering table" as a friend thought. She is going to show it to Nigel the librarian to help, as it does have a familiar look.
It has been a pleasant day in the garden doing the last part of the cleaning while listening to the 3rd day of the Test Match (cricket) against India. There can be few better ways of spending a Saturday afternoon in July. Good tip from the internet – clean Bakelite with Brasso.
Just as I had finished applying the first coat of finishing wax and brought it indoors, Julie next door came round with her delightful 2 and a half year old son Adam. I took him up the shed and showed him the bees coming to and going from their nest (hive?) under the floor, which he thought was amazing and great fun as we stood in their flight path, which of course it is.
The two literature classes I have become a member of are to start up again in September. The tutor of one has sent us the "syllabus" for hers, with the title Aspects of Empire with a reading list of works all completely new to me, which will take me where I've rarely been in terms of style and subject – Paul Theroux, Kowloon Tong, V S Naipaul, A Bend in the River, Paul Scott, The Jewel in the Crown, Leonard Woolf, The Village in the Jungle and Jonathan Swift, A Modest Proposal. Looking forward to all that. The other "tutor" – this isn't strictly accurate as we all "volunteer" to contribute a paper or a short talk on something under our general theme – has suggested that I might like to do a presentation on the Beat Generation of writers. Our theme is American Literature 1940-1960 which should be great for me. I've revisited Howl already and bought the Penguin Portable Beat Reader. Hours and weeks of unadulterated pleasure there, then.