We went to our local library in Alsager for an hour this morning, on National Poetry Day in the UK, to see and listen to W Terry Fox read some poetry. I consider it well worth visiting that link to some YouTube performances. It was a fine way to spend time and Barbara also enjoyed it. He talked quite a bit about Mow Cop where he lived for a time and still lives "down bank" a bit at Whitehill.  The event attracted an audience of about a dozen, two of whom had travelled from Crewe. It was a free occasion, funded by the Friends of Alsager Library.
Poetry has always been a minor interest of mine, humming quietly along in the background to a life, ever since that A Level course in Eng. Lit. at school with good old "Gabby" Hayes where he introduced us to the beauty of John Keats' work. Alongside many of his own fine poems, W Terry Fox read Keats' Ode to Autumn today, (read and hear here) which took me right back to those days in that particular seat in that particular classroom, as clear as if  I were there now.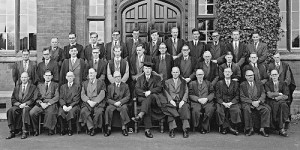 I remember those times with Gabby (middle row, second from the right) as a bejewelled island in a murky sea of dark drudgery and suffering from the rest of my schooldays. There were only four of us in the class, as I remember, which added to the privilege and sheer pleasure of coming from a bookless and often cheerless home to that highly skilled introduction to classic literature over two years that probably helped to nurture whatever semblance of sanity I ever had. Thanks Gabby and Thanks Terry.
Poetry in Chicago? Well, here's a poem by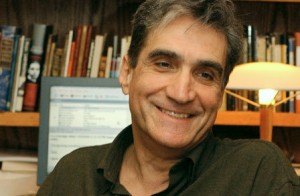 Robert Pinsky featured on the excellent website of The Poetry Foundation based there; from such a simple thing like the next time you put on a shirt or skirt, he has fashioned simple but resonant words.